Guest Post: Socks the Cat
I'm turning the blog over to the newest furry family member in my extended family, Socks the cat! My Mom adopted her from Cat Depot a little over a month ago. We wanted to give Cat Depot an update on how she's doing, and thought this would be a really fun way to do it!
Here she is!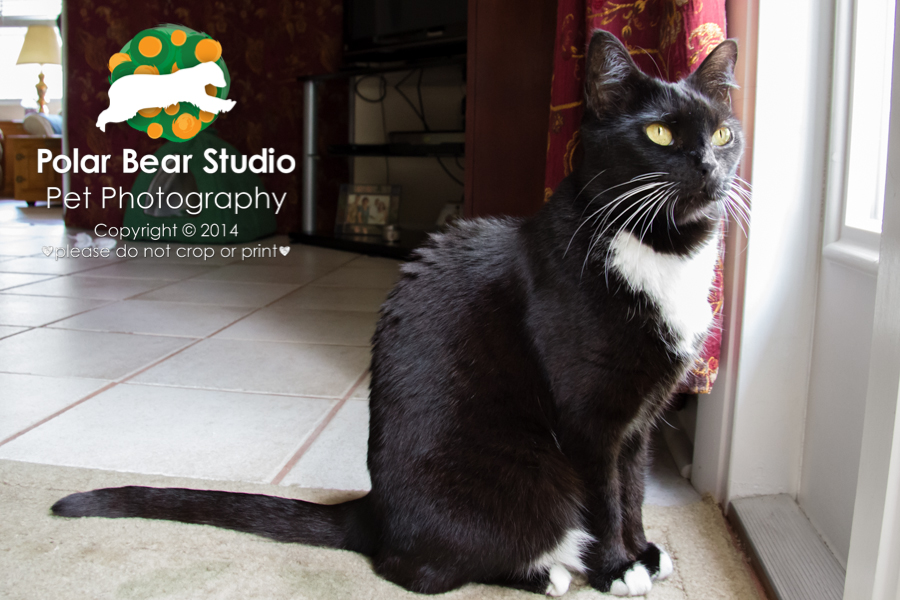 Dear Cat Depot Staff & Volunteers,
This is Birdie! But now my name is Socks! My new Mom finds it amusing that while I'm dressed up everyday in a furry tuxedo, I still keep things a bit casual with my white socks. Also, I love my Mom's socks, they're probably my favorite toys of all time!
I've had a lot of new experiences! I've seen REAL-LIFE squirrels, woodpeckers, and other birds, just like in the TVS at the shelter. There's a bunch of windows and even a catio I can see them from.
Also figured out what a window is...apparently there's something deceptively solid about it, even though it LOOKS like you can jump outside, you can't. First thing I did after getting out of the cat carrier was jump at a window and bonk my head. It was pretty embarrassing, but my Mom and my Aunt Denise (who is a pet photographer, and this is her blog) found it kinda funny.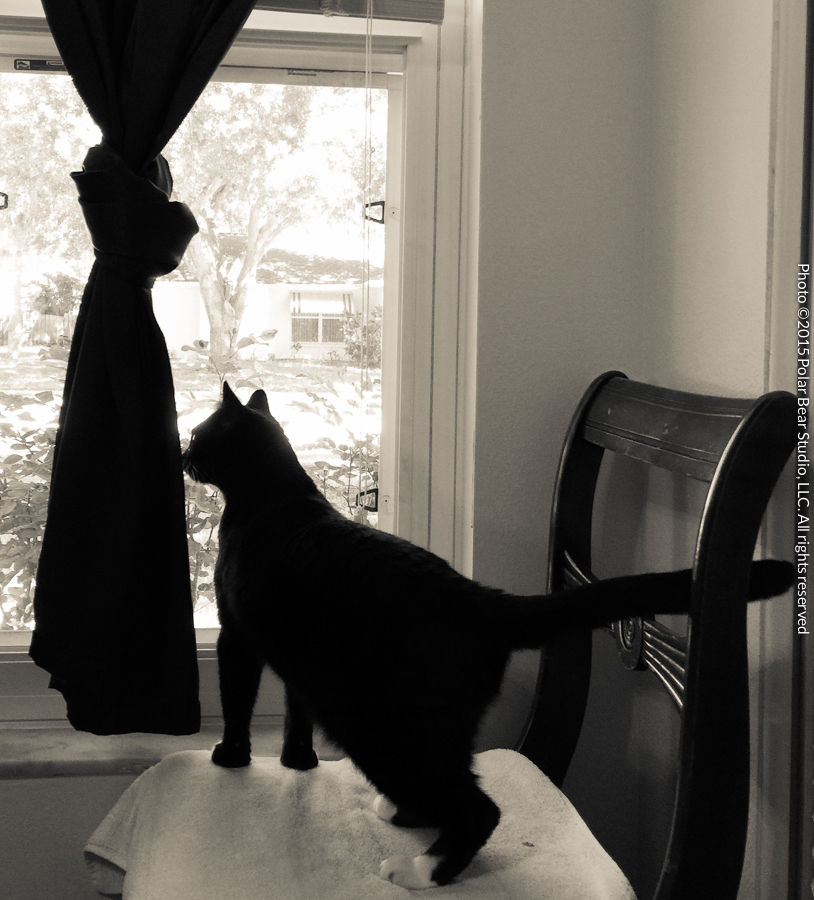 I'm getting along with my new step-sisters, the other two cats in the house. They've kindly shared all of their beds, food bowls, sleeping spots, and climbing trees with me. But, now that I think about it, I don't think I really asked for permission first. Oops! Oh well. I think one step-sister is a bit nuts, but we get along fine. Apparently she's the one everyone was so worried about that I wouldn't get along with, which I find pretty amusing. Truthfully, I've yet to meet a cat or person I didn't like. I'm a very, very happy cat. I purr all the time!
My new Mom took me to the vet to get my sniffles checked out. I always have a runny nose, and sound a bit congested. The first thing I did to my new Grandpa, who lives with us, was sneeze on him. The vet gave me a shot, which was not fun, but it did alleviate some of my congestion. I'll probably always have a bit of runny nose, but my new Mom said that's ok and she loves me, boogers and all. Moms are awesome like that.
I want to let everyone at Cat Depot know how happy I am, and also how grateful I am for taking care of me, and rescuing me from the cruel conditions at Napier's. I waited longer than most to find my perfect family, a little over a year, but it was so worth the wait. I keep Grandpa company during the day while Mom is at work, and I'm never bored or lonely.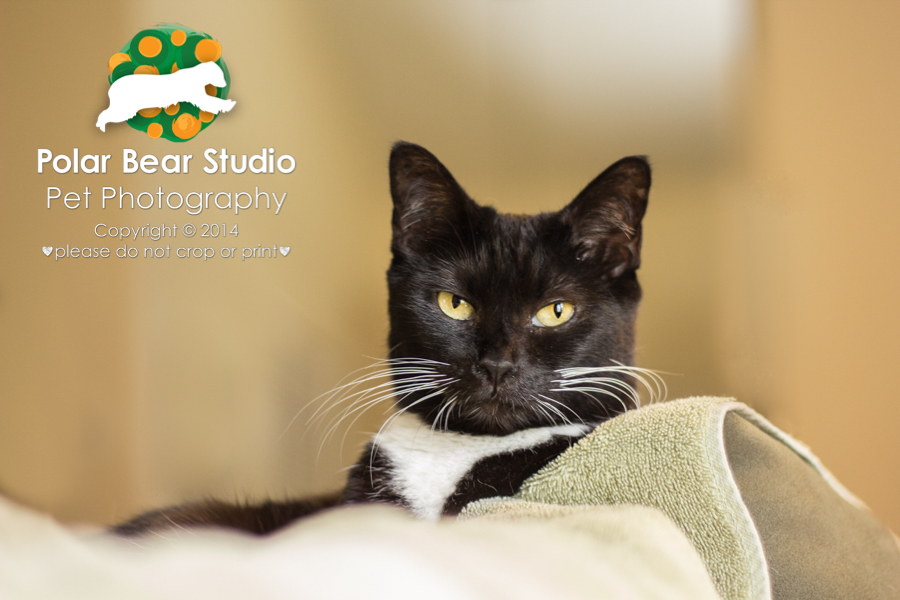 If it wasn't for the extra time and effort that you took writing such a detailed description about me and what I'm like, my new family would have never found me. You see, my Mom was worried about her other two cats not accepting a new cat, and although she really wanted another one, she wasn't sure it was a good idea. But the volunteers made sure to write about how I love other cats and haven't met a cat I didn't like, and that gave her the encouragement to come meet me, and fall in love with me. Thank you from the bottom of my heart.
I also want to send a special purr out to my sponsors. It can be kind of uncomfortable going to your new family with empty-paws. I was surprised and delighted to find out I had sponsors that had a care package for the family who would adopt me. It was a big bag full of all sorts of goodies for me to take to my new home, including this awesome bed that I love to knead. It was so thoughtful! My Mom and I really appreciate it, and we were touched by this additional generosity.
:YAWN:
Ok! Well it's about time for my 2:30 cat nap. The sun has just started to shine through the back door, and there will be a sun-beam on my favorite new sleeping spot on top of the couch! It's purr-fection!
I send you all lots of kisses! Thank you for everything! Rest assured your Birdie is living a furry fairy tale!
With lots of love!
Socks the Cat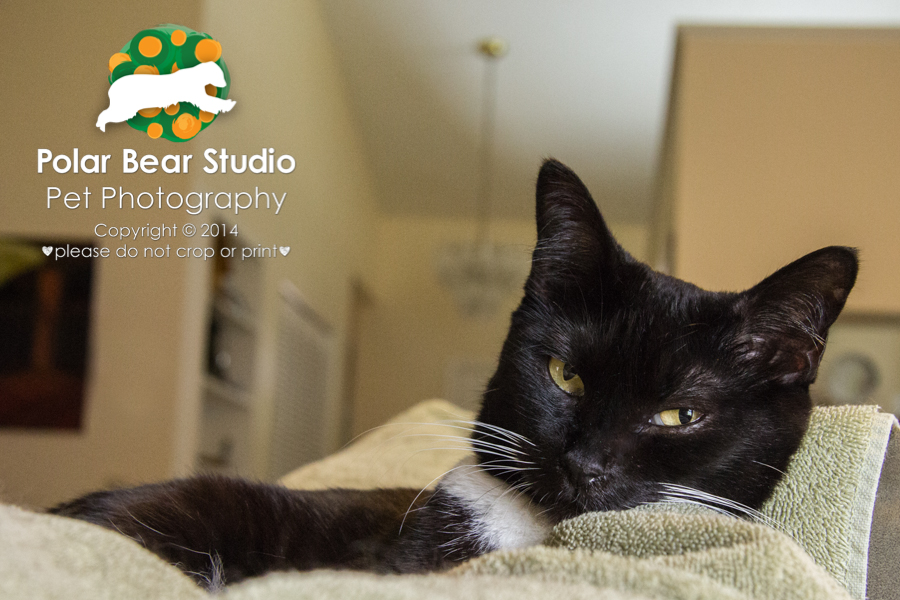 --
WE LOVE THIS CAT. She's fantastic. My Mom and my Grandpa can't stop raving about how wonderful she is. Socks was originally rescued from the animal cruelty case at Napiers back in February of last year. If you're unfamiliar with the story, here's a link. But bottom line, this cat has been through a lot, and we're ready to fill the rest of her life with love, sunbeams, and food! Cat Depot was there for her, as well as so many other cats in need. Thank you!
Please, always opt to adopt! There are wonderful cats waiting for a forever home at your local animal shelter.
Denise