This photo shoot can make me go misty-eyed for all sorts of reasons. First being, that Dustin was one of the first babies I'd ever held, and now look at him. High School Graduate! And another reason being the incredible bond he has with his rescue Nala, a lab/retriever mix. She has the look of total admiration, undeniable love.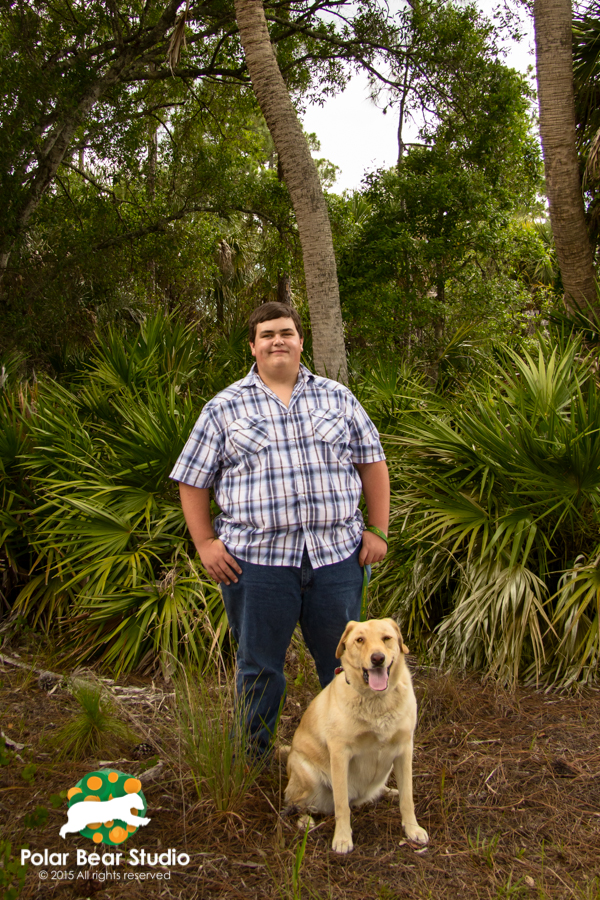 Dustin is my second-cousin, on my Dad's side of the family. He's quiet, and doesn't usually appreciate the spotlight. However, I found that using some of my attention-grabbing tricks that work great for dogs, also crack up quiet high school-aged teens! Ha! Ha!
These were taken in a park near their home in Punta Gorda, a small portion of a larger Senior Session. Nala greeted me as soon as I got out of the car, a big, gentle girl who was wagging her tail appreciatively before I'd even had the opportunity to love on her. Dustin is completely outdoorsy. Fishing, camping, kayaking...all of it, and Nala is the side kick on all of Dustin's adventures.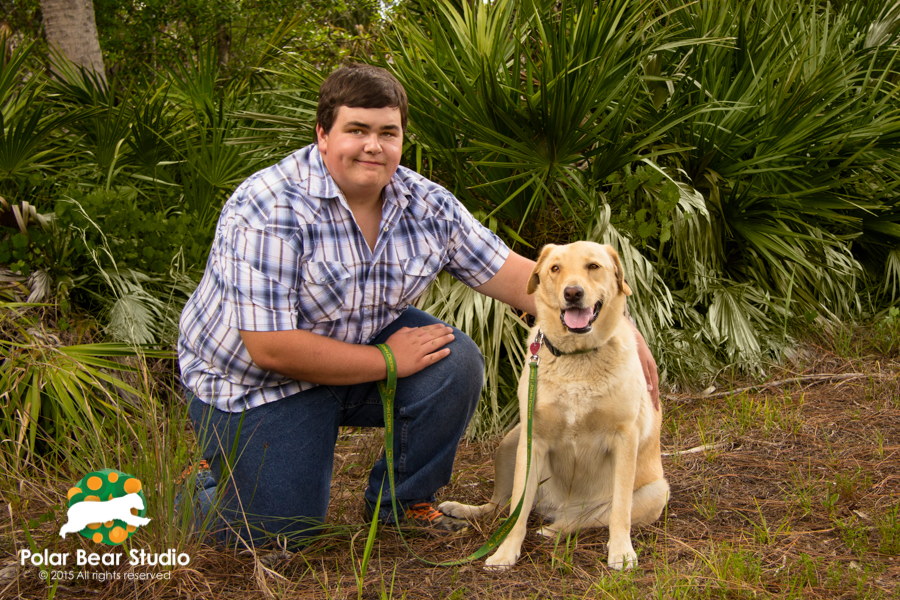 Couldn't resist this moment...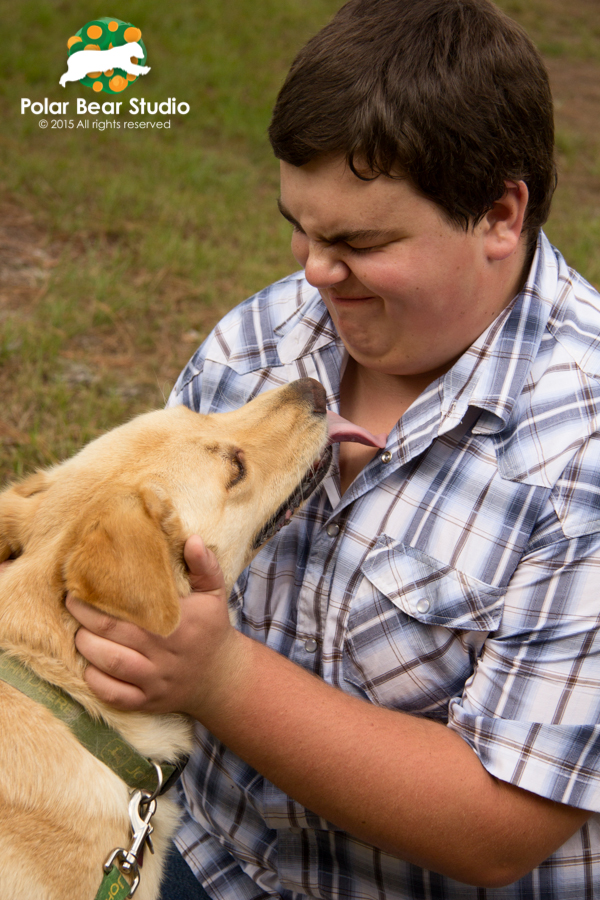 Nala is a little..crooked? No one knows why her skull/facial features are out of alignment. Birth defect, or possible abuse by her original owners when she was a puppy? We'll never know. She's been living the furry fairy tale with Dustin and his family since 2012, and that's all that matters to us. Personally, I think unique is more beautiful than perfection.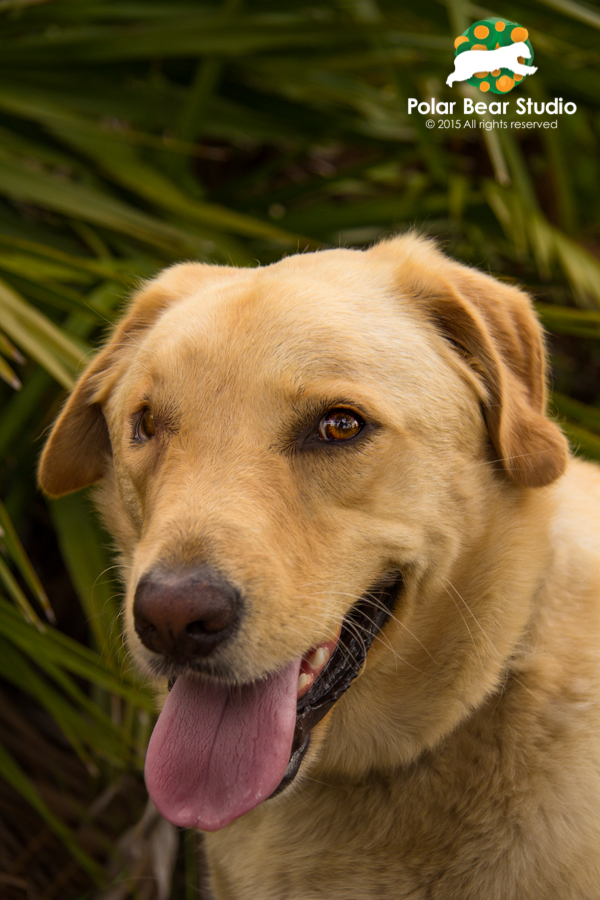 I love the symbolism of the two palms in the background, my cousin April pointed that out to me, and the way Nala tilts her head. So sweet.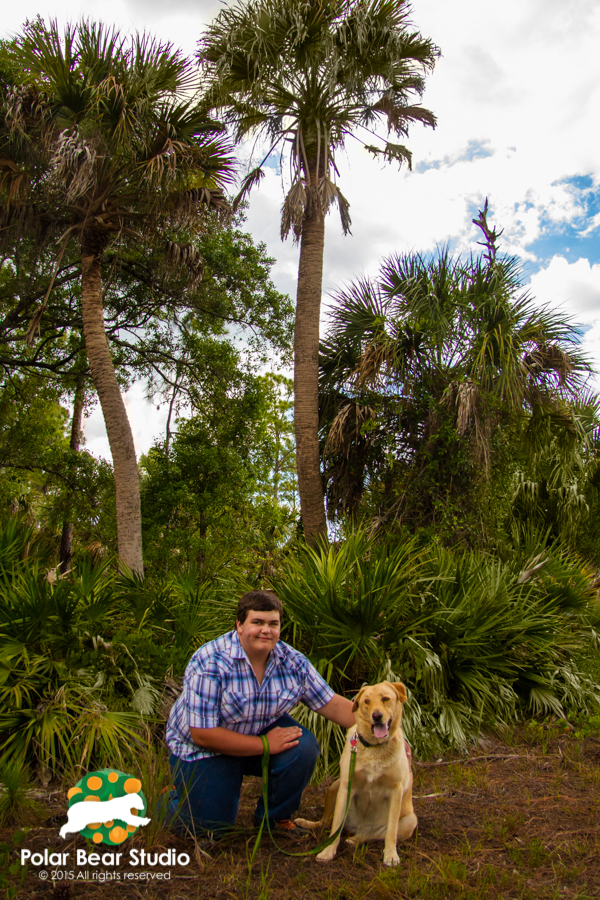 Right away, the Dogs of Manatee County calendar project is leading me off-the-beaten path...and I'm loving it. I've never traveled to this part of Palmetto, and its beautiful! It feels like time has stood still for the last 20-30 years and the roads are nearly empty although its Memorial Day weekend. Once I turn onto Patti's street, I end up going slower than the speed limit so I can look around. With no cars behind me, I feel like a Sunday driver.
I met Patti and her furry family at the April 'Bark in the Park' baseball game at McKechnie Field. Dogs can attend for a $2 Pooch Pass, which in turn is donated to the Humane Society of Manatee County. We had shared an immediate kinship over Misty & Stormy's namesake, the fantastic children's books by Marguerite Henry, Misty of Chincoteague

, and the sequel, Stormy, Misty's Foal. I devoured all of Marguerite Henry's books when I was little, and still have my collection.



And true to the story namesakes, Patti's Misty & Stormy are also mother and daughter, and Misty was born on Chincoteague Island, Virginia. When Patti volunteered for the Dogs of Manatee County calendar project, I thought a summer reading theme would be perfect, and while it had me reminiscing, I took it one step further and built a reading fort/tent for Misty & Stormy.
Luckily, my neighbor had a mammoth-sized pile of oak branches curbside for the 'green trash' pickup day. My husband and I dove in and picked out fort building materials. I love the natural bends in the branches. And to think they were rescued from trash for an art project definitely kindles the romantic in me.
Patti has truly found a paradise to call home, and her backyard even overlooks the Tampa Bay. I picked out a spot bordered by mangroves that had a spacious vista of the bay. The skyline and islands are pretty, but would be distracting from my furry models.
Patti's husband pointed out numerous mountains of sand belonging to their very ambitious fire ants. Patti ended up loaning me a pair of thick, tall socks to protect my feet and ankles. Then he directed me to another spot where Water Moccasin snakes nest. Apparently those are poisonous. I didn't realize that with this photo shoot I was risking life and limb!
It was a bit daunting building a fort after so many years, but I put on my brave face, and went to it. The sand was a dream to work with, so I simply dug a 6-inch hole with my hand shovel, dropped in the stick, filled the hole. Good to go. Sometimes I thought I was hallucinating that the sand was moving, but it was in fact just bugs, bugs, and more bugs. I learned not to look down. Despite the wind, it was an easy enough job, but ultimately took 45 minutes to an hour from start to finish. The actual photo shoot?
Five minutes, ten tops. Misty and Storm were easy to work with. Due to their therapy dog training, they minded Patti exceptionally well. I'm always really impressed when a dog can 'wait' when a treat is lying defenseless in front of them. I couldn't have asked for a better start for the calendar!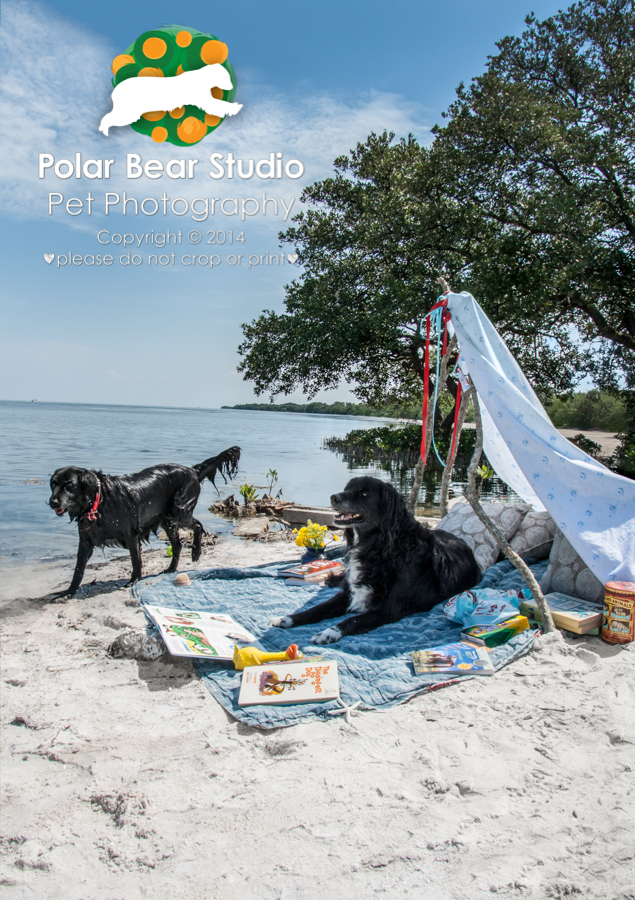 Packing up the car again, I felt like 'Pig-pen' from Charlie Brown, a dirt cloud following behind me with a random circling fly. The socks did the trick, and the fire ants and I kept to our own territories. The water moccasins must have been celebrating Memorial Day elsewhere.
Thank you Patti and family!